Did the people who attended the demonstrations in California have positive experiences? Did the demonstrations have any positive effects on the minds of the people who encountered us? You bet! Far from being heavy or unhappy, the demonstrations in California were overwhelmingly positive. Both the demonstrators and many people who spoke with us left with a happy mind. Here are seven stories of people's positive experiences at the demonstrations.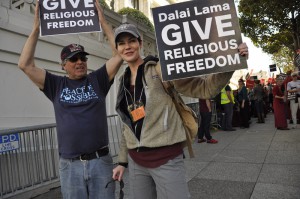 1. A student is glad we're asking questions.
From: Eve Arias, Dorje Shugden practitioner from Connecticut
A student from Santa Clara University returned to the demonstration site after her class, wishing to get more information. After hearing a brief summary of the purpose of the demo and some insightful questions on her part, she said she was so thankful for the fact that someone was questioning the Dalai Lama's actions. She left with a book [ The False Dalai Lama ], a wish to investigate and a big thank you to the group speaking up against the Dalai Lama's actions.
2. The Tibetan woman who appreciated what we're doing.
From: Kelsang Lhadron, American Buddhist nun and Dorje Shugden practitioner from New Mexico
When I was handing our leaflets on the corner outside the symphony hall [ in San Francisco ], a Tibetan woman walking by me said quickly and quietly "Thank you so much for what you are doing" and kept walking.
3. More Tibetans in Berkeley are also glad we were there.
From: Kelsang Samatha, American Buddhist monk and Dorje Shugden practitioner from NewYork
As we were waiting for the bus to leave from Berkeley to take us back to San Francisco, a couple of Tibetans walked by and looked up at the bus window, mouthing, "Thank you" to us.
4. Even the security guard left happy.
From: Kelsang Norbu, American Buddhist monk and Dorje Shugden practitioner from Florida
The security guard at the Forum in LA told me that initially he had thought, "Oh, no!" when he was told that he would be posted in the parking lot with the demonstrators, but by the end of the day he felt it was his best post ever. He said, "Everyone here is so nice!" And he was visibly smiling and happy, shaking my hand, and so forth.
5. "Yes, I'll make prayers!"
From: Kelsang Dechok, American Buddhist nun and Dorje Shugden practitioner from New Mexico
In Berkeley, a lady approached me with the leaflet in hand. She was very soft-spoken and seemed somewhat physically challenged. She told me "I have read this (leaflet), and I don't fully understand, can you please explain?". So I told her more about the situation, how the Dalai Lama's ban on Dorje Shugden practice has resulted in hundreds of ordained being expelled from their monasteries and being refused basic human rights such as medical care and education. She shook her head and said "This makes me very sad. Is there anything I can do to help?" I asked her if she was able to get online, thinking she could sign the petition. She said no. So I offered that she could read the book "The False Dalai Lama" and make prayers. She was so happy, she said "yes! I will read this book and make prayers". Then she said "Thank you so much for what you're doing".
6. One young man decided to join in.
From: Kelsang Nyema, American Buddhist nun and Dorje Shugden practitioner from South Carolina
After the Dalai Lama's talk in The Forum in Los Angeles, a young man walked up to Kelsang Chogo and me as we were demonstrating and asked tentatively, "Can I join you guys?" Chogo and I sort of did a double-take at this unprecedented request from someone who had been listening to the Dalai Lama speak just minutes before. But then we handed him a "Give religious freedom" sign and welcomed him.
When we finished the demonstration fifteen minutes later, I said to him, "I'm glad you could join us."
"I am too," he replied. Then he added, "The energy in here [ where we were demonstrating ] is a lot more positive than it was in there [ pointing to The Forum ]."
7. Other people leaving the Dalai Lama's talk in Los Angeles provided similar feedback.
From: Kelsang Choma, American Buddhist nun and Dorje Shugden practitioner from California
Outside the Forum in Los Angeles, a man told me how disappointed he was with the talk he had just attended. He left the talk early said he felt that the Dalai Lama has been corrupted by power and is now just a politician.
As people were leaving the talk at the Forum, many people were very interested in reading the book and the leaflet. They were stopping their cars and coming up to us to ask for information. They were open, friendly and curious.
The demos were magnificent and I can't remember when I've had a better time. Engaging in meaningful compassionate actions to protect the spiritual life of Shugden practitioners with Sangha from around the world, chanting from our hearts (and dancing a bit too) – wonderful. Definitely, these demos have been one of the highlights of my life; we were pervaded by blessings and love. I've booked my ticket to DC and think about 15 others from San Francisco are doing the same. Even three non-Buddhist members of my family in Brooklyn are going to try to join us in DC. I hope to see you there, too.
What Positive Experiences Will Come from DC?
These seven anecdotes are just a few examples of the wonderful progress we made in California in helping people to understand the Dalai Lama's hypocritical ban on Dorje Shugden practice. Of the two hundred or so demonstrators who went to California, nearly all of them have similar positive stories to tell.
Why not join in when we demonstrate in Washington, DC? It doesn't matter if you're Buddhist or non-Buddhist; as shown above, everyone is welcome to participate and we want religious freedom for everyone, not just for Dorje Shugden practitioners. After the DC demonstration, you'll be so happy you did something positive and compassionate on behalf of others.